Snakes v2.1 43Kb
Arcade. Snakes with obstacles.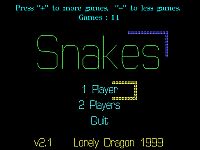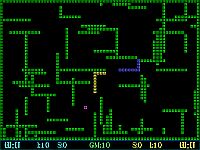 Minimal requirements:
Cpu: 286
Ram: ~200kb may be (not ckecked) :)
Video: Vga and better

Game essence:
Controlling snake, it is necessary to force opponent to run into you or in a wall. But don't do this yourself. :)

Controls:
You must control snake by cursor buttons for the first player, and W, A, S, D for the second player, if you want to play together.